Devola couple teaches mental health awareness, compassion following son's suicide
(Article originally posted at https://www.mariettatimes.com/news/2018/09/grief-spurs-action/)
She still hears him when the owl hoots outside their home.
He still remembers him as he teaches his students compassion for mental illness.
Four years after Grant Bauer took his life, his parents Bill and Mary Ella Bauer still ache with the loss of their son.
Grant, 25, of Marietta, shot himself to death on Sept. 5, 2014.\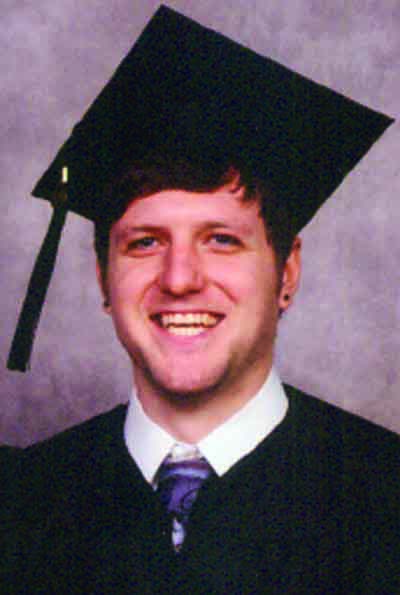 Grant Bauer
He had just been by his parents' house the day before, dropping off movie posters for his mother and had complimented their new blender.
He had texted his dad to play Words with Friends during the day and talked on the phone with his mom that night.
But just a couple hours later, at 4:12 a.m., Mary Ella awoke to the terrible call.
"Dad just said, 'Grant's dead,'" she recalled Wednesday, four years to the date of Grant's death. "I just went numb."
Grant had been living with her parents in Nelsonville, preparing to search for apartments the next week in Columbus.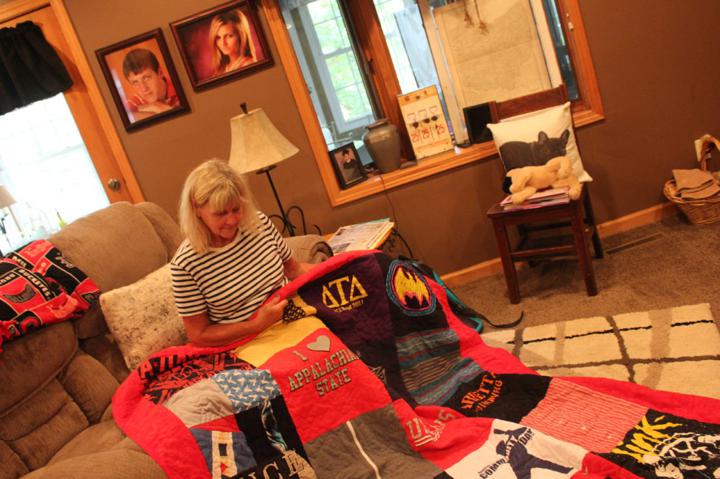 JANELLE PATTERSON The Marietta Times On Wednesday, Mary Ella Bauer wraps herself in a quilt made of her son's T-shirts, his favorite hoodie and swimsuits from his childhood, as she remembers the life and suicide of her son Grant, 25, four years to the date of his death.
And while the Bauers have faced the loss together, they've processed his passing differently.
"We don't want him forgotten, for people to stop saying his name," said Mary Ella as she wrapped herself in a memory quilt made of Grant's favorite T-shirts, swim trunks and hoodies.
The blanket is quilted together with the "I love you" hand position from sign language, an ode to one of Grant's tattoos and his skill working with those with disabilities.
"I still have the tattoo we both got, too," she explained, showing her left wrist.
It reads "life goes on" in script, she said. Grant got the same inscription on his right wrist.
What has gone on, though Grant's life ended, is the pair and their daughter Maddie Ryser, who recently wed.
"Grant would have been the life of that party, drunker than a monkey and dancing with everyone," described Mary Ella.
But instead, the family has had to forge on, remembering Grant through their work, and through the #Grantspeed movement.
"Grantspeed really took off, I'd get texts from people all over the world these last three years," said Bill, an education professor who has poured himself into increased mental health education, suicide awareness and teaching compassion to his Marietta College students. "I just got a text from someone in Sweden who's doing random acts of kindness in Grant's name."
Even Bill's students, joining him for class in Beverly before future plans of going into elementary classrooms there, were wearing the movement's T-shirt as the group discussed mental illness and disabilities Wednesday.
The couple also founded The Bauer Fund, through the James Jay Dudley Luce Foundation, to provide mini-grants in the name of their son and battle the stigma of mental illness and suicide.
"If you'd have told me five years ago that I'd be sitting here, talking openly about suicide, I'd have told you (that) you were crazy," said Mary Ella. "But that's the thing, we must talk about it, we must see it."
She said in hindsight there are connections she's made to Grant's anxiety and increased depression after he graduated from college, but there was also so much joy the family shared.
"I'd never have guessed he'd do this, that he'd make such a permanent decision," she added. "No parent should see their child go first. We didn't choose this but we hope he's remembered for more than Bill and Mary Ella's son that took his life. We hope he's remembered for the acts of kindness and the Vienna sausages and the smiles and songs."
Bill said he has gone to Hawaii the last two summers to visit some of the recipients of Grant's random kindness, the homeless.
The pair had spent many summers teaching swimming lessons to children with disabilities before Grant passed. Bill also lives with hearing impairment.
"But I never knew until after he died where he went on Friday nights during those summers, he would never tell me," Bill explained. "He would take his paycheck and go buy these little cans of Vienna sausages. And that network knew him, he was their friend. (Later) as I handed the little Vienna sausages out of a backpack one looked up to me and just asked, 'Grant?'"
This year's recipients of The Bauer Fund include the national nonprofit, Operation Never Forgotten, which supports the health and well-being of post 9/11 physically and/or invisibly wounded veterans, caregivers, Gold Star families and deployed troops, and Disability Rights of Ohio.
"Grant never judged illness or saw disabilities as scary," explained Mary Ella. "He would befriend and care for anyone."
Grant Week will also be celebrated by the #Grantspeed movement throughout the next six days as individuals from across the world note random acts of kindness done in Grant's memory.
"I love logging onto Facebook and seeing those, and knowing that's a part of Grant too," added Bill.
The couple also encouraged those considering suicide to talk with someone, a parent, mentor or friend.
If you or someone you know is considering suicide call 1-800-273-8255, 24 hours a day to speak with a trained crisis line responder.
The Bauer Fund:
• In memory of Grant Bauer, this fund provides stipends, research, sponsorships, mini-grants and program development opportunities in the areas of mental health, suicide awareness and promoting and enriching the lives of people with intellectual disabilities.
• Donations may be made by check or online through the J. Luce Foundation, a 501(c)3 nonprofit at 540 Main St., #418, New York, N.Y., or tinyurl.com/k7qa4wj, note The Bauer Fund.
Source: Bill and Mary Ella Bauer.
Other resources:
• National Suicide Prevention Lifeline: If you or someone you know is considering suicide call 1-800-273-8255, 24 hours a day to speak with a trained crisis line responder.
• The Suicide Awareness Alliance of Washington County meets the third Thursday of each month at 4 p.m. at the O'Neill Center, 333 Fourth St., Marietta. The public is invited to attend.
• The HOPE (Helping Other People Endure) Support Group offers a comfortable and safe environment for sharing and support to anyone who has experienced the death of a loved one by suicide. For more information, contact LeeAnn Price at 740-984-2881.
Source: Washington County Behavioral Health Board.